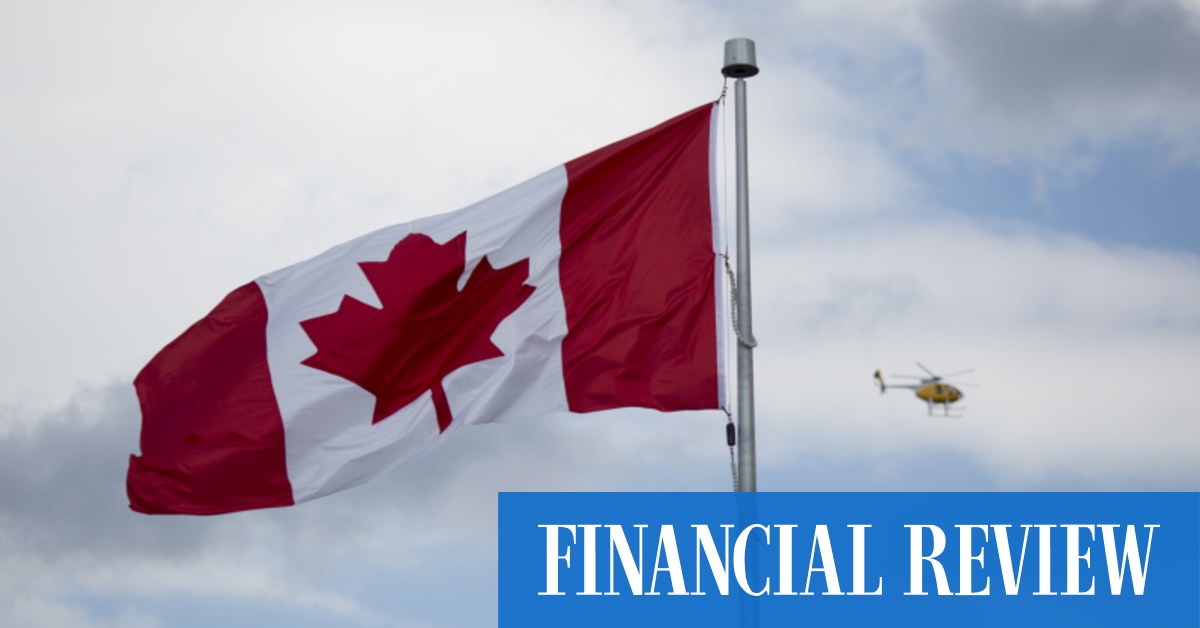 ASX set to rise, global markets rally on Bank of Canada pivot
The Bank of Canada unexpectedly slowed the pace of its interest rate hikes as the domestic economy flirts with recession, although sustained inflation means it still expects to raise the costs of debt again. loan.
The local currency jumped 1.6%, bringing it within reach of US65¢; the Bloomberg dollar spot index lost 0.9%.
On bitstamp.net, bitcoin was 3.1% higher at US$20,756 as of 8:25 a.m. AEDT.
The yield on the US 10-year note slipped 10 basis points to 4.00% at 4:59 p.m. in New York.
On Wall Street, five of the 11 S&P 500 industry groups were lower, paced by a 4.8 percent in communication services. The NYSE Fang+ index fell 2%. The VIX fell more than 4% to 27.31.
It wasn't just a turbulent session for tech. Boeing fell 8.8% after reporting a bigger-than-expected quarterly loss.
British Prime Minister Rishi Sunak delayed until November 17 the announcement of a long-awaited plan to restore the country's public finances. said a prominent economist.
Today's agenda
Local: Q3 trade data as of 11:30 a.m. AEDT
Overseas data: China September industrial earnings as of 12:30 p.m. AEDT; European Central Bank policy decision at 11:15 p.m. AEDT; September US Durable Goods Orders, Q3 Annualized GDP, Q3 Core PCE, Kansas City Fed Index October
Market Highlights
ASX futures up 26 points or 0.38% at 6825 around 07:00 AEDT
AUD +1.6% to 64.94 US cents
Bitcoin + 3.1% to US$20,756 as of 8:25 a.m. AEDT
On Wall St: Dow Flat S&P -0.7% Nasdaq -2%
In New York: BHP +2.8% Rio +3.4% Atlassian -5.3%
Tesla +1% Apple -2% Alphabet -9.6% Microsoft -7.7%
Amazon -4.1% Netflix +2.6% Meta -6% NYSE Fang -2%
Stoxx 50 +0.6% FTSE +0.6% CAC +0.4% DAX +1.1%
Spot gold +0.7% at US$1,665.47/oz at 1:57 p.m. in New York
Brent +2.3% to $95.68 a barrel
Iron ore -1.9% to $87.80 per tonne
10-year yield: United States 4.00% Australia 3.91% Germany 2.11%
US prices from 4:59 p.m. in New York
United States
Boeing unexpectedly announced a larger loss in the third quarter as cost overruns led to heavy losses in its ailing defense business, underscoring the challenge the company faces to turn around its fortunes.
Shares of Mobileye Global opened 27% higher on Wednesday, valuing Intel's standalone technology unit at $21.3 billion, as investors swallowed what could be the last big IPO of 2022.
Kraft Heinz reported a surprise increase in quarterly revenue and beat profit estimates as the Philadelphia-based Jell-O and cream cheese maker benefited from price increases and better supply from retailers.
Harley-Davidson posted better-than-expected profits, briefly pushing shares up 11% as consumer demand for its popular bike models and price increases during the summer season boosted sales.
Europe
The pan-European STOXX 600 index ended up 0.7% at its highest level since September 20.
Germany's blue-chip DAX jumped 1.1%, France's CAC 40 0.4% and Italy's FTSE MIB 0.5%, all three hitting six-week highs.
Shares of Germany's Deutsche Bank rose 1.2% while Britain's Barclays and Spain's Santander fell as they warned of growing risks even as they posted higher-than-expected profits . The European banking index slipped 0.3%.
Italy's UniCredit rose 4.3% after the bank raised its profit target for 2022.
"The impressive performances of UBS, Deutsche Bank and UniCredit serve to highlight the benefits of higher interest rates and large market movements," said Joshua Mahony, senior market analyst at the online trading platform. IG.
"Nevertheless, we are likely to see some hesitation, as the economic implications of higher interest rates are yet to be felt. This golden loop situation of higher margins and economic health may soon come to an end given data evolution.
Meanwhile, London's blue-chip FTSE 100 rose 0.6% as Britain's new Prime Minister Rishi Sunak delayed announcing a long-awaited plan to repair the country's public finances until further notice. to November 17.
Goods
U.S. crude inventories rose 2.6 million barrels last week, weekly government data showed, more than expected but that was lower than industry figures, which showed a 4.5 million barrel increase. barrels.
In addition, crude exports hit an all-time high of 5.1 million barrels per day, pushing net U.S. crude imports to an all-time low.
"Overall, thanks to the export market, this is turning into a bullish report despite an average increase in commercial crude inventories," said John Kilduff, partner at Again Capital in New York.
Traders attributed the rise in exports to the widening WTI-Brent spread, which entering Wednesday's trade was at over US$8 a barrel.
U.S. refining rates also remained high at nearly 89% of capacity, their highest since 2018, and higher than usual for this time of year.