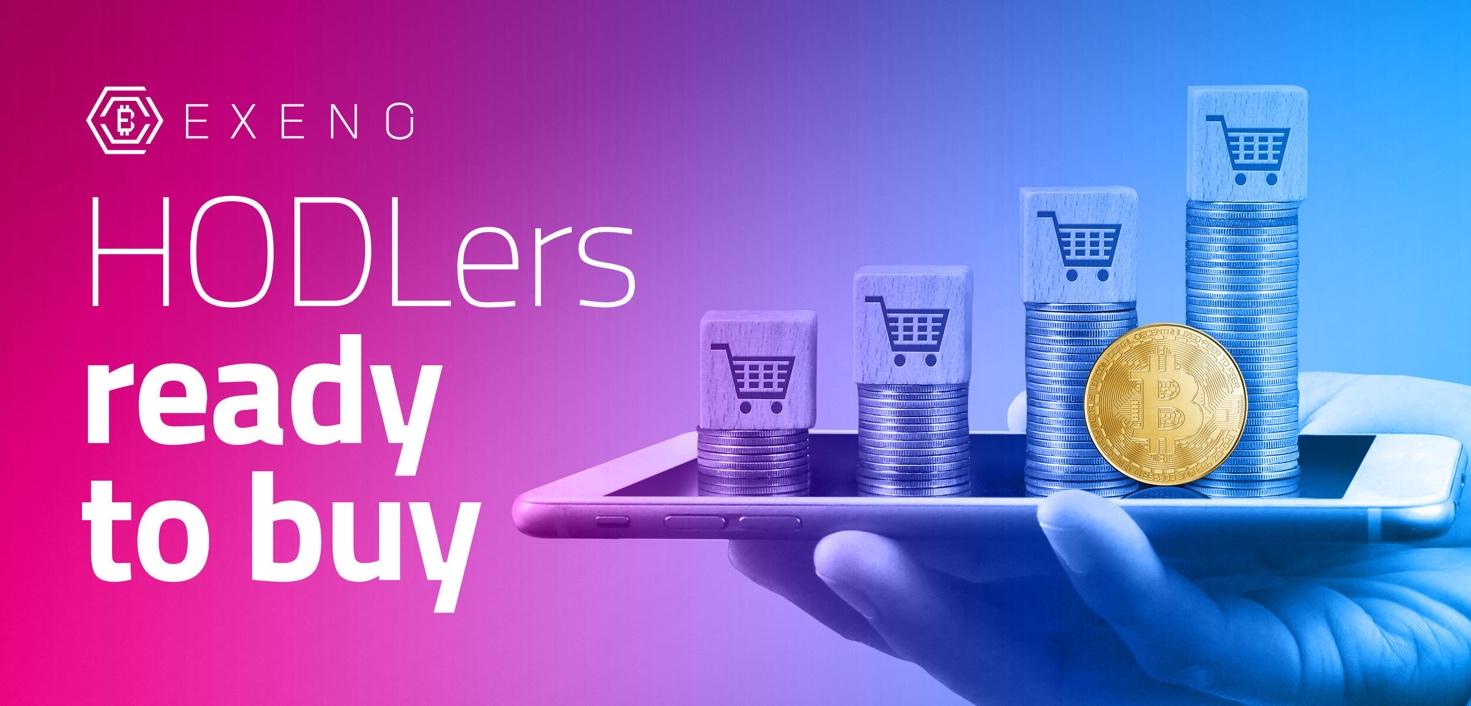 Exeno.com – HODLers Ready for Cryptocurrency Transactions
Sixty-five percent of customers are ready to buy with cryptocurrency.
HODLers would like to use their Bitcoin, Ethereum, and other popular cryptocurrencies to purchase consumer goods, such as real estate, cars, and electronic gadgets. Exeno unveils the results of its market research on cryptocurrency adoption.
65% of customers are willing to spend their cryptocurrency on popular products.
Real estate, cars, electronic gadgets are at the top of the list of desired products for cryptocurrency transactions.
32% of respondents say they invest in cryptocurrencies as an instrument for retirement savings.
Exeno.com is an innovative global online store. The platform allows customers to pay for selected products with Bitcoin, Ethereum, USDT and Bitcoin Vault novice without FIAT conversion. People all over the world can use their digital parts to quickly and safely purchase popular products ranging from electronics, cosmetics, sports accessories to travel gear.
Exeno organized a survey to study cryptocurrency holdings and spending habits of modern customers. The research was part of the effort to explore the role of cryptocurrency in people's lives and to identify what should be done to improve the online shopping experience.
People are ready to buy products with cryptocurrency
Respondents were asked if they would buy goods such as smartphones, tablets, computers and game consoles with cryptocurrency. Two-thirds gave an affirmative answer: 65% of respondents are willing to buy these goods for their cryptocurrency. Most customers find cryptocurrency to be an attractive payment method.
The main advantage of cryptocurrencies over FIAT money seems to lie in their politically independent nature. Fifty-four percent of respondents are willing to use their cryptocurrency to buy real estate, 45% to buy cars and 33% to acquire electronic gadgets (respondents were allowed to give more than one answer).
Buying luxurious and expensive things with cryptocurrency seems to be a common strategy, possibly due to exchange rate fluctuations providing the opportunity to make a low-cost purchase. Regarding the frequency and rationale for spending on cryptocurrency, 21% of respondents would use their cryptocurrency for large purchases; 28% plan to use cryptocurrency as a regular payment method.
Although 65% of those surveyed are open to shopping with cryptocurrency, only 22% have. The dominant cause was simply the lack of stores accepting such payments: 36% of respondents indicated that popular stores do not honor cryptocurrency. Twenty-four percent feared going through the complex procedures required of cryptocurrency users. Nineteen percent are wary of high exchange rates and 14% of high commissions.
Twenty-three percent of respondents plan to spend their cryptocurrency in the very near future ("right now"), and 32% are ready to take that step in the next 1-3 years. Thus, the survey suggests that 55% of cryptocurrency holders are likely to search for stores that accept cryptocurrency payments. Only 8% said they intended to keep their digital coins for 10 years or more.
The results of the survey show a clear upward trend in the popularity of cryptocurrencies as a payment method. Players like Exeno are seeing this potential with an increasing number of cryptocurrency transactions every day. The research was conducted in June and July 2021. Participants answered 10 multiple-choice questions via an anonymous online form.
About Exeno
Exeno.com is an innovative global e-commerce that allows you to buy all goods with Bitcoin (BTC), Ethereum (ETH), USDT, Bitcoin Vault (BTCV) cryptocurrencies. The company was founded in 2020 in Tallinn, Estonia. The platform operates from February 2021 and ships all goods worldwide to people all over the world. The offices of the store operator are based in the EU (Warsaw, Poland).
The use of digital currencies in transactions makes the Exeno.com platform not only fast but also extremely secure. The low transaction fees are an added bonus for a growing group of crypto maniacs.
To find out more, visit Exeno.com or follow one of the social networks: LinkedIn, Facebook, Twitter, Instagram, YouTube, Telegram.
Disclaimer
All information on our website is posted in good faith and for general information purposes only. Any action that the reader takes on the information found on our website is strictly at his own risk.