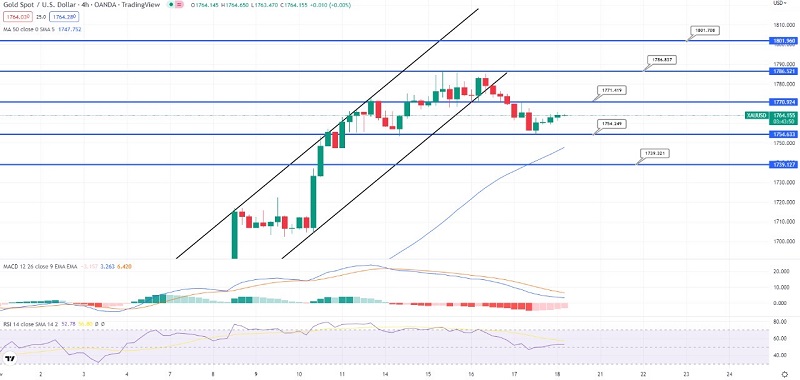 Gold Ends Week Below $1,750 – Quick Weekly Outlook
Gold prices rose on Friday as the dollar fell, but were still on course for their first weekly decline in three weeks, pushed lower by hints from US central bankers that further rate hikes of interest are ongoing. According to Jigar Trivedi, an analyst at Mumbai-based Reliance Securities, gold could remain volatile until the Federal Reserve gives clear direction.
The dollar index, a competing safe haven, fell slightly, making gold more affordable for global buyers. However, the U.S. dollar was on course for its strongest week in a month as hawkish remarks from Fed officials and robust retail sales slowed a decline triggered by signs of slowing inflation. .
After four straight 75 basis point hikes, markets are already pricing in an 87% chance of a 50 basis point hike at the Fed's December meeting. Although gold is considered a hedge against inflation, rising interest rates and bond yields increase the opportunity cost of holding bullion.
XAU/USD
Analysts say institutional investors are hesitant and further gold bulls could be elusive.
Let's take a look at the technical forecast.
Gold Technical Outlook
The price of gold is settling below the $1,765 level to maintain the suggested corrective downside pressure for the time frame ahead. A closer look at the chart reveals that the price is now forming a potential head and shoulders pattern, so breaking $1,754 will activate the negative effect of this pattern and pressure the price into negative targets that start at 1 $746.40 and range up to $1,721.65.
As a result, the downtrend scenario will hold today, with a breakout of $1,765 followed by $1,770.70 halting the expected decline and bringing the price back to the main uptrend. Today's trading range is likely between support at $1,740 and resistance at $1,780.
Next Week Projected Trend: Bullish