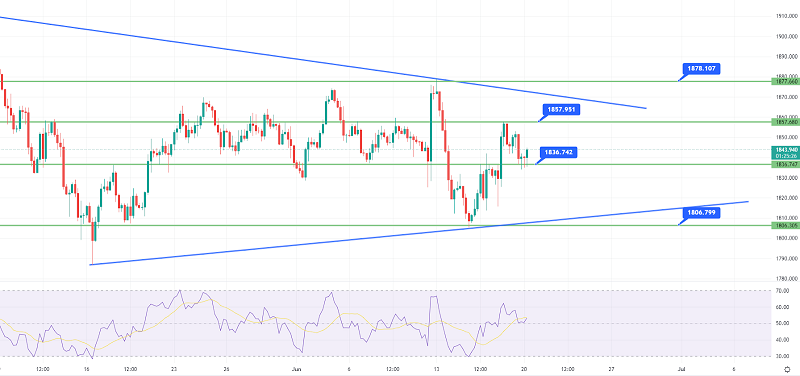 Gold Gaining Support at $1,836 – What Could Stimulate a Bullish Trend Today?
After the biggest weekly decline since early May, the price of gold (XAU/USD) resumes offers to consolidate losses at around $1,840 in Monday's Asian session. While the outlook for China appears to favor a corrective pullback, concerns over a global recession and Fed rate hike are prompting metal buyers to be cautious during a quiet session.
However, news from Reuters that "President Joe Biden's administration is considering removing some tariffs on China" joins upbeat news from Beijing and Shanghai to bolster cautious market optimism, which favors buyers of China. 'gold. The Washington Post (WaPo), on the other hand, expressed concern about a problematic new economic climate following the US Federal Reserve (Fed) rate hike of 75 basis points (bps).
According to the news, the Fed's rate hike has triggered a high-stakes test of the economy's ability to wean itself off unlimited credit and tolerate higher borrowing costs for consumers, businesses and the government. . Additionally, Treasury Secretary Janet Yellen spoke of her expectations of an economic slowdown, but brushed off recession fears.
XAU/USD
Wall Street benchmarks ended mixed during these maneuvers, and US Treasury yields remained under pressure. However, at press time, S&P 500 futures are up slightly. Moving on, GOLD traders should keep an eye on testimony from Fed Chairman Jerome Powell for further impetus as the Fed boss is likely to be asked about inflation concerns to justify the recent rate hike.
Gold Technical Outlook (XAU/USD)
Gold price provided clear positive trading and remained supported above the 1836 level. However, it starts today with an apparent uptrend to settle above the mentioned level, this which encourages us to suggest a bullish bias today. Leading indicators, such as the Stochastic RSI and RSI, are currently positive, resulting in a bullish bias for gold.
Above the 1838.10 trading level, gold has the potential to reinforce the uptrend, which will continue unless 1850.00 is breached and held above. Today's trading range should be between 1820.00 support and 1855.00 resistance. So, consider looking for buy trades above $1,836 and vice versa. Good luck!