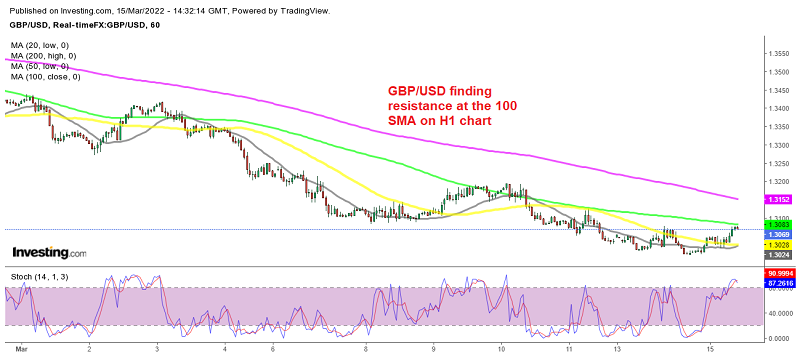 USD/CAD Rebounds After Canadian Inflation Report
USD/CAD has been affected by several factors recently. This pair is affected by the FED, which has gone hawkish since last summer as inflation continues to rise in the US, sending the USD higher, thus having a positive impact on this pair. But, the bullish momentum of this pair ended at the end of 2021, as crude oil continued to climb.
Oil continued to rise as the United States WTI approached the $100 level in February and this month Crude Oil received a strong boost, reaching almost $130. This helped the CAD, which held up well against the USD during the month, while other major currencies declined.
US WTI Crude Oil Daily Chart
Crude Oil has once again fallen below $100 and is now facing the 50 daily SMA
Inflation, on the other hand, has also increased in Canada and today's CPI (Consumer Price Index) report confirmed this, although it remains well below the US CPI. As a result, the Bank of Canada is not thinking of raising interest rates at this time, as the FED is expected to do tonight, which is expected to raise rates by 25 basis points to 0.50%, but may also increase by 50 basis points, to 0.75%.
February 2022 Canadian Consumer Price Index Report
One-year CPI and core CPI
February CPI 5.7% YoY vs. 5.5% expected
The year-on-year CPI +5.7% recorded its strongest rise since August 1991 (+6.0%). February marked the second month in a row that the title inflation exceeded 5%
January annual CPI was 5.1%
Monthly CPI 1.0% vs. 0.9% expected. This is the highest reading since February 2013.
February MoM increased by 0.9%.
SA MOM CPI stands at 0.6% vs. 0.6% last month
January MoM CPI was 0.9%
Core CPI MoM SA 0.3% vs. 0.4% last month
The CPI excluding gasoline prices rose 4.7% from 4.3% in January
Basic measures year after year
Common 2.6% vs. 2.4% estimate and 2.4% last month (revised from 2.3%
Median 3.5% vs. 3.4% last month (revised from 3.3%)
4.3% reduction from 4.0% last month (unchanged from previous month's estimate)
Strong points :
Canadian consumers paid 32.3% more at the pump than in February 2021. Monthly gasoline prices rose 6.9% due to the conflict in Europe and uncertainty surrounding the world oil supply
food prices increased by 7.4% over one year against 6.5% last month. This is the largest increase since May 2019.
Housing costs rose 6.6% year-on-year at the fastest pace since August 1983. Owned accommodation rose 6.2% and rented accommodation increased 4.2%.
household appliances increased by 7.8% and cooking appliances by 9.4% over one year. Refrigerators and freezers increased by 15.6%, while laundry and dishwashing appliances increased by 9.1%
the good news is that phone services declined with prices down -7.9% YoY.
USD/CAD moved to a new session low (price moved lower today) and approached the 100-day moving average at 1.2679. The low price reached 1.2686.
USD/CAD live chart
USD/CAD